Discover the seaside town of Calpe, situated at the heart of the Costa Blanca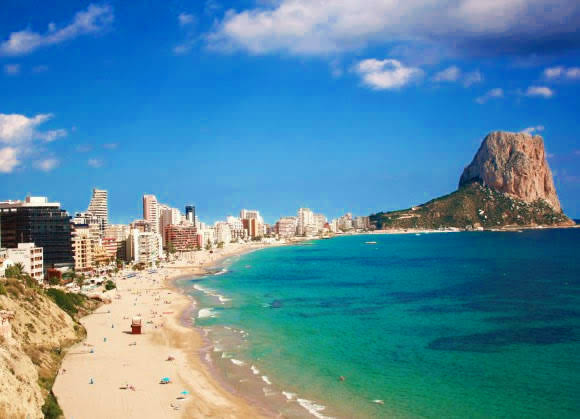 Calpe is a place that can only be described as one of those destinations where you can have whatever holiday you want, a quiet relaxing one on the beach, a bustling busy one with all the sights to see, an adventure one with rocks to climb, paths to walk or roads to cycle on or a rollercoaster one at one of the themed parks, just whatever you want and more……
There are a number of expats living here, along with French, German, Belgian and of course Spanish people. We also have a number of people that come regular every year either for a week or a few months.
One of main attractions in Calpe is the Penon de Ifach (the rock), everyone is allowed to climb to the top (it is advisable that small children don't), there is a roped pathway to the halfway point, then the tunnel to walk through (very slippery due to the amount of people over time that have walked through it so hold on!) Once you get to the other side, the climb to the top is for you to decide. Once at the top the views are breathtakingly spectacular (camera is a must for this). It is advisable to do this climb either early morning or late afternoon and you will need to allow roughly an hour to ascend and the same on the way down. Also advisable is a bottle of water.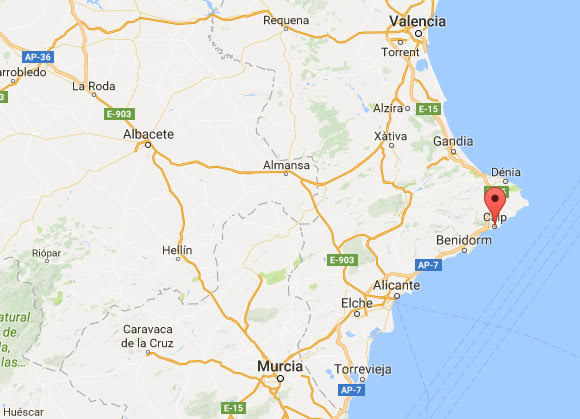 We are a 20 minute drive away from Benidorm, and approx. an hours drive from Valencia in one direction and Alicante in the other, both major cities with lots to offer. There is also the surrounding areas of Javea, Jalon, Benissa, Moraira / Teulada and Denia also offering a great day out.
If you are looking for a great Spanish meal out, then there are many restaurants to choose from. We recommend The Andalucia, El Robles or La Picanta for their tapas, menu of the day (menu del dia), fantastic food, service and a great Spanish ambience. With great wines and beverages to choose from its the ideal night out in Calpe. All of these establishments are very friendly and even give you a short lesson in Spanish if you ask! For a more A la Carte experience there is the "Patio" located in the old town which is family run and has a great feel to the place. Also there is Casita Swiss, Sieta Lunes to name but a few.
For a traditional English theme, try Pub Delphin, run by Andy, Jan, Natalie and all the close team, a place run with you in mind for all your home comforts. Newly refurnbished and very popular from pub snacks to a proper Sunday Roast with fresh vegetables and all the trimmings, to a gin and tonic and a beer or two. A great place close to the beach with open terraces, drinks and snacks served almost all day and a friendly warm, inviting atmosphere. You simply can't come to Calpe without visiting Pub Delphin
There are numerous English bars in and around Calpe, we recommend Tres Palmeras for its friendly atmosphere, run by Mick and Chris its a great bar and they cater for all your needs, they have all kinds of different things going on here throughout the week of which you are always welcome to participate in and also all the latest sports events, (if its on the TV, Mick will find it for you!!). This bar is located on a no through road so alfresco is a must!! A great home from home with a wonderful friendly atmosphere. Try Jimmy's Bar for your morning cuppa, or lunch where they have a variety of dishes on their menu. Run by Lola, Jimmy and their team, a great place to visit in the heart of the town.
There is always something to do in Calpe, you could visit the "old town" where you will find the Spanish steps, the church (a sight to behold), local Spanish tapas bars, decorated streets of flowers, museums, and lots more.
And as for the beaches, there are two sides to choose, both equally as beautiful as the other, the Spanish here in Calpe pride themselves on the cleanliness of their beaches, you will also find the "lookie lookie" men out with all their bargains for you to peruse. There are many great shops for you to look at as well, including, boutiques, tourist shops and interesting one off shops that are spread all around Calpe.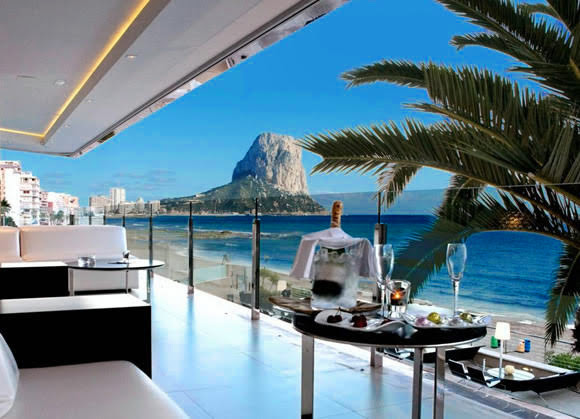 Visit the famous Benidorm Palace for a spectacular show and meal, with one of the largest stages in Europe and tiered seating, you wont miss a thing and its a great opportunity to get out that special outfit. There is also the waterpark (Aqualandia), the animal attraction outdoor centre (Mudomar), a great day out with along sealion and dolphin shows amongst others.
Also visit Terra Mitica with its rollercoaster rides and also Terra Natura which has lions, tigers, elephants and many more beautiful animals, Terra Natura also has a mini water park so you can realy have the whole day here and enjoy both.
Tickets for all of these can be purchased in Calpe and there are always discounts to have. The kids (and the adults!!) will love any of these. Enjoy a day at the Algar waterfalls which you can swim in (hold your breath… its cold water). Back in Calpe you will find the salt flats where you will see flamingos among other wildlife, don't forget to take some pictures for your album. There are just so many days out to see so much, you would need to book another holiday!
For the ladies (and of course gentlemen!) treat yourself to a haircut or style for that special night out at "The Studio" hairdressers located in the centre of town, English owned and run by mother Abbi and daughter Zoey (who specialises in pedicures and manicures), and are always available to give you a consultation.
So, with days out in the car, strolls along the beach, historical journeys through the old town, a venture into Benidorm, a day out at Aqualandia, Mundomar, Terra Mitica, Terra Natura, or one of the the big cities, to reading on your balcony, to meeting new people, there is something for everyone. Calpe is very child friendly with lots for the little ones to do, including all the beach facilities down to the restaurants and what they offer for our young. Alfresco dining or just having a coffee is in abundance here and a relaxed laid back way of life for both young and old.
You will find that once you have been to Calpe it will be very hard NOT to return. We hope that once you have been here as a stranger, you leave like many before, as a friend xx We very much look forward to speaking with you regarding your future holiday, we are always on hand and with 22 years experience can give you the help that you need.
For more information on apartment or villa rental in the first instance please email us or contact us online
CALPE FIESTAS 2019
Click here to view / download Calpe Fiesta Guide 2019